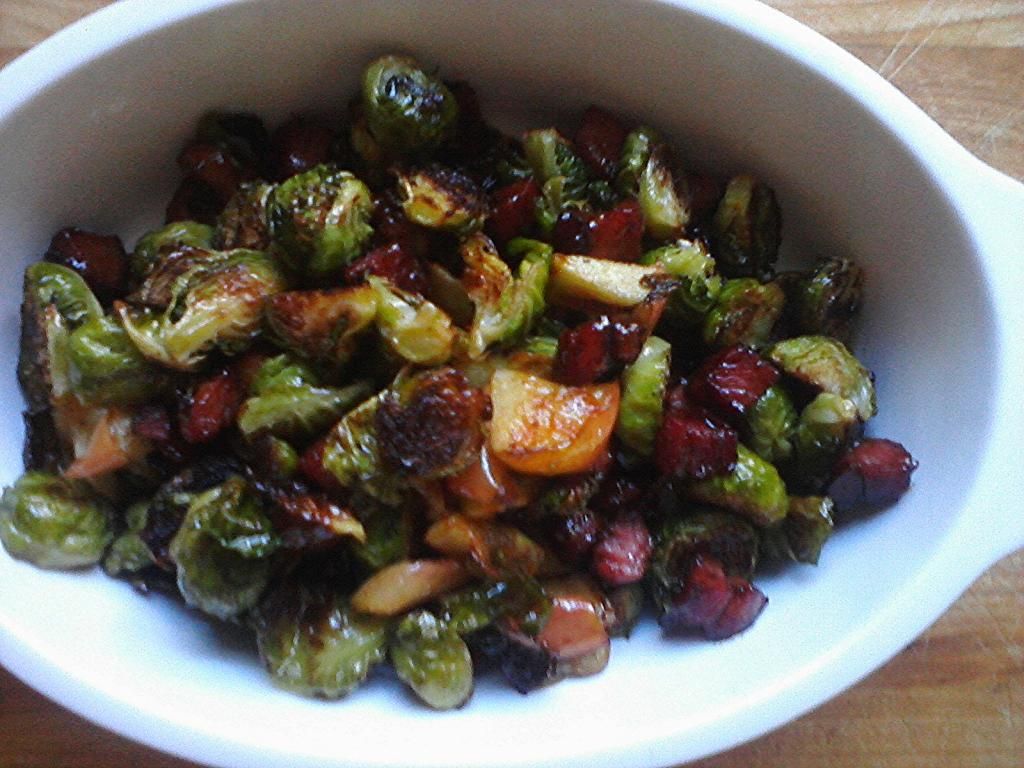 I'm auditioning brussels sprouts for a potential role in my Thanksgiving contribution this year. Brussels sprouts are a relatively uncharted territory for me as I was one of those haters for most of my life. I began my conversion a couple of years ago when I came across a very simple recipe in one of Gwyneth Paltrow's cookbooks. The photograph was delicious and I'd been trying to broaden my veggie horizons by focusing specifically on vegetables that I'd thought I hated (eggplant and squash rounded out the top 3 vegetables I've managed to avoid all my life). The brussels sprouts were pretty darned good. I felt accomplished, adventurous, and virtuous. Then I moved on.
In preparation for the upcoming holidays, I was asked if I'd be up to bringing a home made holiday dish to a staff meeting at the market and talk about how to shop for it and how to prepare it, providing printed copies of the recipe. This is an example of how we live
Bi-Rite's
mission statement:
Creating Community Through Food.
The first thing that came to mind were brussels sprouts. I don't know why, because I've never prepared them since that first time but it seemed like the perfect occasion to revisit.
Roasted Brussels Sprouts with Apples & Bacon
adapted from Michael Symon at cookingchanneltv.com
and backtoherroots.com
1 ½ pounds brussels sprouts-trimmed and halved*
1 large tart apple, such as a Granny Smith or Pippin-cut the same size as the brussels sprouts
8 ounces slab bacon-cut into ¼ " lardons (cubes)
Olive oil
Salt & pepper
¼ cup balsamic vinegar
2 tablespoons maple syrup
Pre heat the oven to 450 degrees.
In a large bowl, toss the brussels sprouts and apples in 2 tablespoons of olive oil using your fingers to get all of the pieces coated. Transfer onto however many sheet pans you'll need so you can spread the pieces out so they are in one layer and not touching each other. You may need to roast in batches to achieve this. Sprinkle generously with salt and pepper.
When roasting vegetables it's important not to crowd the pan or else everything will just steam and not brown.
Roast for 20 minutes** or until the vegetables start to blacken. Halfway through the roasting time, remove the pans, toss the vegetables around and switch places on the racks if you have more than one pan going,
Cook the bacon until crispy. Drain onto a paper towel and drain the fat into a small Pyrex type bowl.
Turn the heat back on under your now empty, but brown bottomed bacon skillet and deglaze with balsamic vinegar scraping up that great stuff stuck to the bottom of the pan and let the balsamic cook down a little and thicken. Turn off the heat and whisk in the maple syrup and a couple of tablespoons (or more) of bacon fat. Toss the cooked bacon back into the pan and stir. Add your roasted vegetables and toss those around a bit to coat.
If you want to get fancy you can add toasted nuts or dried cranberries or top with crispy fried onions or shallots.
*I bought bagged brussels sprouts which contained a variety of sizes. To achieve uniformity, cut the large ones in quarters, the medium ones in half and keep the tiny ones whole. You can also buy them loose and choose ones that are uniform in size. I like the variation of crispiness you get from the differences in shapes and sizes. Save the loose leaves and roast those last. They're like kale chips and add another dimension to the dish. Keep an eye on them so they don't burn like mine did.
**cooking time will vary depending on how large your brussels sprouts are.
I'm gonna go all out and do a big batch of these. The leftovers make a great fritatta the next morning and a nice garnish for soup.