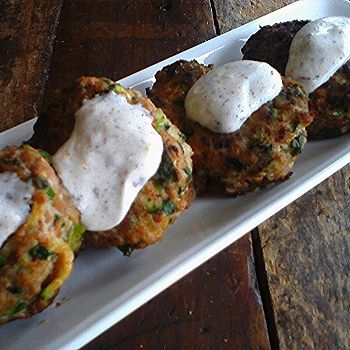 Another Jerusalem fave. I've made these tasty little sliders several times now and I just can't get enough-they are so flavorful and the sumac sauce just puts it over the top. I double the recipe so I can revel in the leftovers. The first time I made these & packed the leftovers for my office lunch, the aroma wafting from the microwave followed by the visual at my desk had my office mates & bakery peeps mesmerized and fairly disgusted with their $10 deli sandwiches. I made these with the Basmati & Wild Rice in the previous post. This morning I chopped up 3 burgers and tossed the colorful little bites in amongst the rice, nuked it for a minute and topped it off with a poached egg. Needless to say, bliss in a bowl.
The great thing about these burgers and the rice dish is that the flavors are at their best at room temperature or slightly warmed so you can make this ahead of time if you decide (and rightly so) you're gonna make this for guests.
Turkey & zucchini burgers with green onion & cumin
from Jerusalem the Cookbook
1 pound ground turkey
1 large zucchini coarsely grated -about 2 cups
3 green onions, thinly sliced
2 tablespoon chopped mint
2 tablespoons chopped cilantro
½ teaspoon freshly ground black pepper
½ teaspoon cayenne pepper
About 6 ½ tbsp of sunflower oil, for searing
sour cream & sumac sauce
scant 1/2 cup sour cream
scant
⅔
cup Greek yogurt
1 small clove garlic, crushed
¼ teaspoon freshly ground pepper
Make the sour cream sauce by placing all the ingredients in a small bowl. Stir well and set aside or chill until needed.
Preheat the oven to 425°F. In a large bowl, combine all the ingredients for the meatballs except the sunflower oil. Mix with your hands and then shape into about 18 burgers, each weighing about 1 ½ oz.
Pour enough sunflower oil into a large frying pan to form a layer about inch thick on the pan bottom. Heat over medium heat until hot, then sear the meatballs in batches on all sides. Cook each batch for about 4 minutes, adding oil as needed, until golden brown.
Carefully transfer the seared meatballs to a baking sheet lined with a silpat or parchment paper and place them in the oven for 5-7 minutes, or until just cooked through. Serve warm or at room temperature, with the sauce spooned over or on the side
.