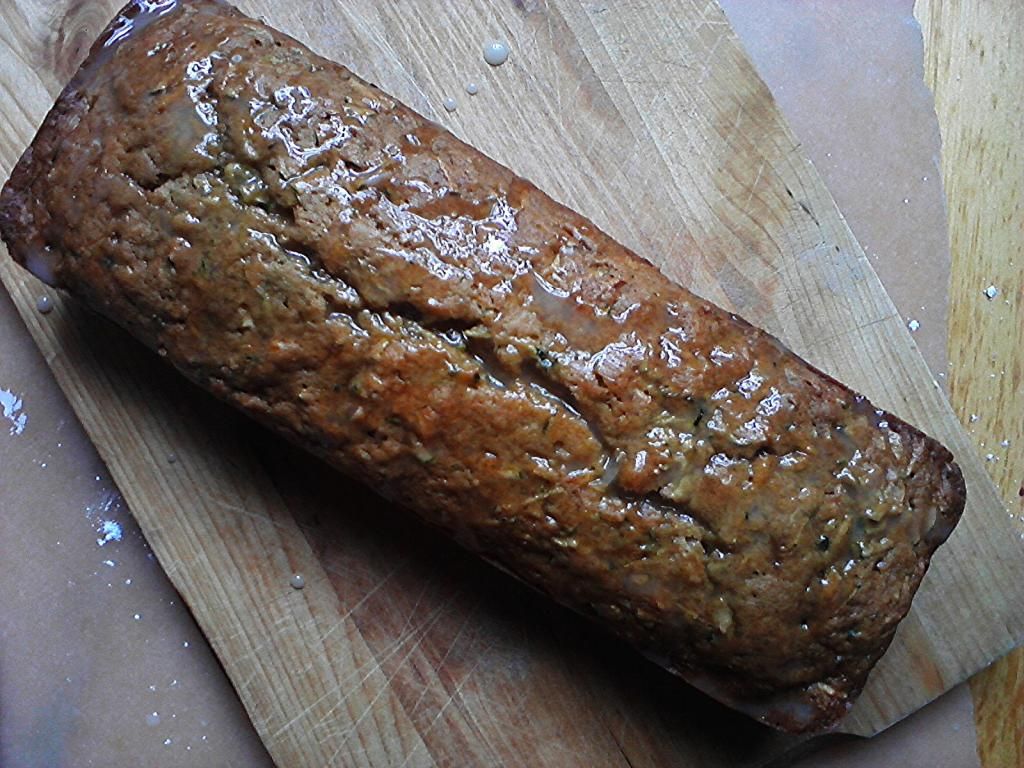 There's been a sad lack of content here these days but that doesn't mean the little kitchen has been inert. In fact, productivity is at an all time high, thanks to the little sister kitchen joining forces with me for a while. It's usually technical difficulties or just plain laziness that inhibits post production. I can't manage to get from the kitchen to the computer, well that's a lie. I get to the computer just fine. Here I enjoy my favorite OCD/ADD procrastination activities along with homemade baked goods. I came home from work last night to a batch of biscotti.
I'm way too easily sucked into that vortex known as Pinterest...not that there's anything wrong with that because that's where I found
this little gem
at one of my faves,
My Baking Addiction.
I saw the words lemon & zucchini in the same recipe title and well...the brain went into overdrive thinking about two ginormous lemons one of my co-workers brought me from his tree and that zucchini sitting in the veggie drawer ready for my next round of fritters.
I managed to make it home and make this beautiful bread and it blew me away because it's a rare, rare occasion when I get my mitts on lemons this fresh. I've always been a city girl and small apartment renter. Lemon trees? When was the last time I saw one of those? I don't get out much-but when I come across a recipe that inspires me to commit it to paper right then and there-then it manages to exceed my expectations AND teach me a lesson...well, in my little world, it doesn't get any better.
I learned a lesson about lemons-well, more of a heightened awareness because of course I know that fresh is best. I have this weird thing about lemons. I love them and I always want to have them because I never know when I'm going to be in the mood for popcorn or salad dressing or a spritz in my sparkly water, but every now and then-sad to say-I'll wind up with a lemon or two teetering on the edge of petrification. I've been known to zest up some sad, sad lemons even though they're dry as dirt.
This was the polar opposite of that.
one ginormous lemon=2 tablespoons zest.
The AHA moment: working the zest into the sugar with my fingertips. The fragrance was out of this world.
Lemon Zucchini Bread
Adapted from allrecipes via My Baking Addiction
3/4 cup granulated sugar
2 tablespoons lemon zest (about 2 medium lemons)
1 large egg
1/2 cup vegetable oil
1 teaspoon pure vanilla extract
1 1/2 cups shredded zucchini (packed and undrained)
1 1/2 cups all-purpose flour
1/2 teaspoon salt
1/2 teaspoon baking soda
1/4 teaspoon baking powder
1 teaspoon ground cinnamon
½ cup confectioners' sugar
1 tablespoon fresh lemon juice
¼ teaspoon pure vanilla extract
1. Preheat oven to 325 degrees F. Spray an 8x4 inch loaf pan with nonstick cooking spray.
2. In a large bowl, combine the sugar and lemon zest, mixing with your fingertips until fragrant. Add the egg, vegetable oil and vanilla and whisk to combine. Stir in zucchini. In a separate bowl, whisk together the flour, salt, baking soda, and baking powder and cinnamon. Stir the flour mixture into the zucchini mixture until just combined. Pour the batter into the prepared pan.
3. Bake 50-55 minutes in the preheated oven, or until a toothpick inserted in the center of the bread comes out clean. Remove pan to wire rack and cool in pan for about 10 minutes before turning out onto the wire rack to cool completely.
4. Once bread is cooled, prepare the glaze. In a medium bowl, whisk together the confectioners' sugar, lemon juice and vanilla. Drizzle the glaze over the bread.
Bread will store in an airtight container in the fridge for 3 days-if it even lasts that long.
Make this ASAP!! You'll be so glad you did.