This pretty pumpkiny thing is a Kuri squash. I picked it right out of the patch with my own two hands along with the butternut and a whole bunch of onions. I'll get back to this.
Photographing pureed soups is just best left to the experts. I lacked the werewithal to come up with photo friendly garnish strategies because this soup was so damn good that I couldn't bear to let it sit around while I noodled around with what?...chives? fried shallots? squeeze bottle drizzle art? No. None of that because I realized that this soup was not about that particular destination. It's the farm to table journey that bears note.
I went to Sonoma last week to get my first gander at the Bi-Rite Farm. I did more than gander. I harvested. I traveled up the afternoon before with a small caravan of co-workers. We spent the night at my boss Sam's gorgeous weekend home, cooking a lovely meal together in a true chef's kitchen around a ginormous island.
After our meal of chili & cornbread, a few beers and a round of Cards Against Humanity, we hit the sleeping bags and got out to the farm early the next morning.
I picked this crazy lemon cucumber.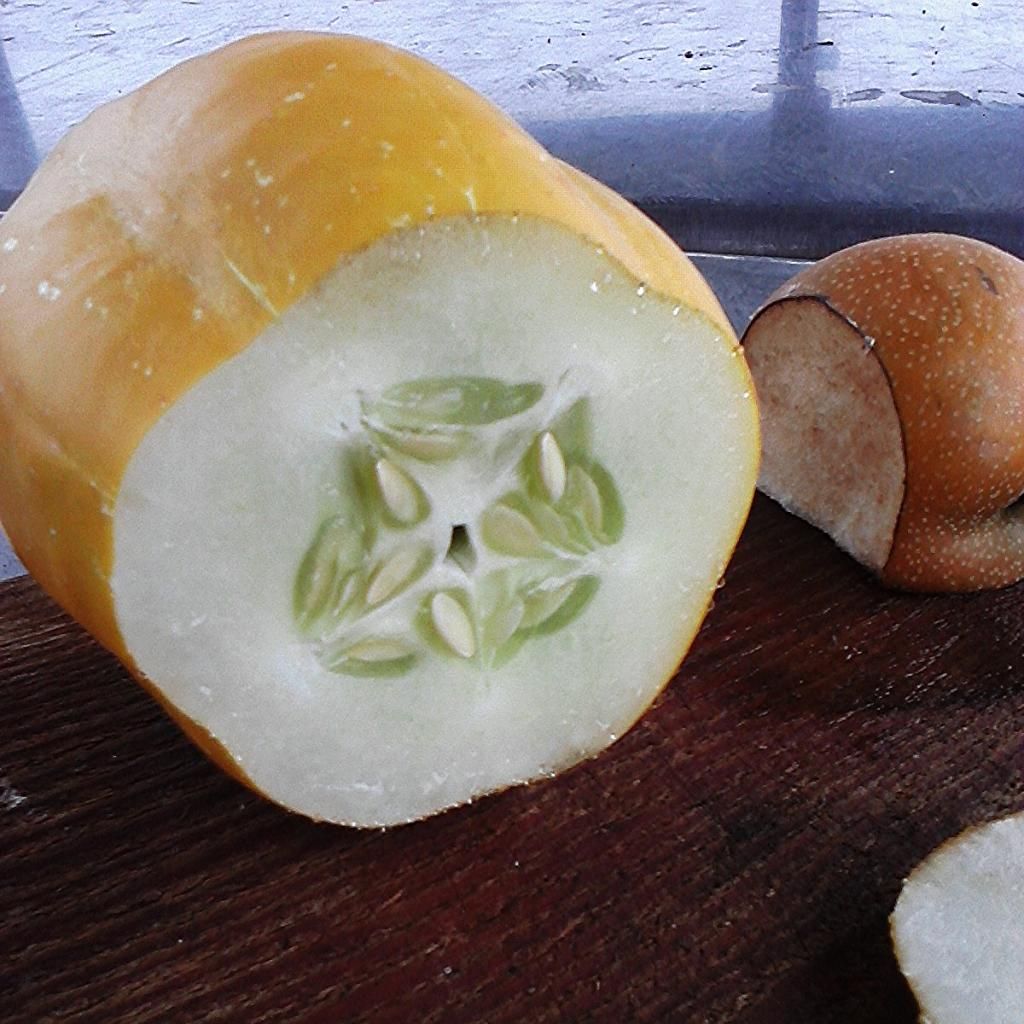 This was really overgrown, at first I thought a melon snuck it's way into the cucumber patch. I'd never seen a lemon cucumber until last year when I started working at Bi-Rite. They are ready to harvest when they are the size of a fat lemon, speckly pale green with a blush of yellow.
We picked the last of the red beans, then pulled up the plants and mashed them into the compost heap. Amaranth weeds were yanked and fed to the cows next door, one of which was destined for our market shortly and carrot tops were fed through the fence to the donkeys at the other next door farm. There is virtually no waste here. The pretty stuff goes to the markets and the rest goes to the kitchens.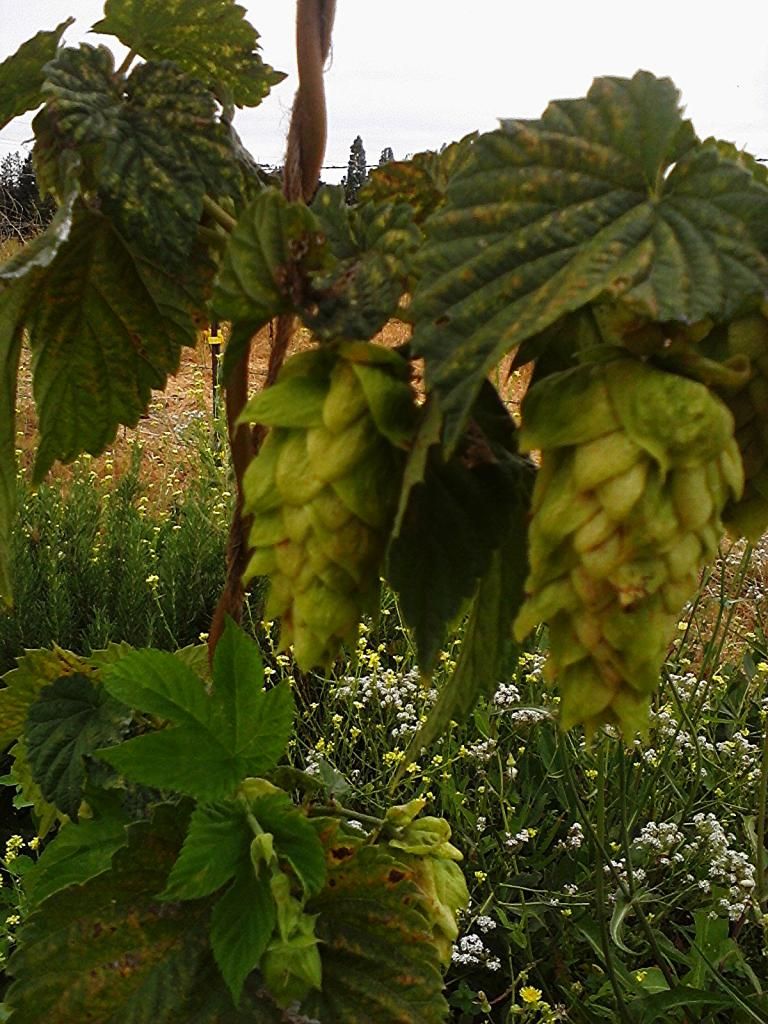 A new crop to the farm... hops. I was invited to tear into one of these buds and rub it around in my hands. It was like perfume. These are destined for a limited edition Bi-rite brew. I've renewed my love of beer since working at the market. I've had the opportunity and great good fortune to be able to taste a vast array of amazing small craft brews and after 15 years of bloaty beer banishment, I am back and truly in love with all manner of hoppy beers. IPA all the way.
I came home with a couple of squashes, a bunch of red torpedo spring onions and fistful of rosemary. I didn't want to get greedy, thinking of what I was capable of using soon and carrying along with my sleeping bag and other gear once we got back to the city.
The very next day I got this going: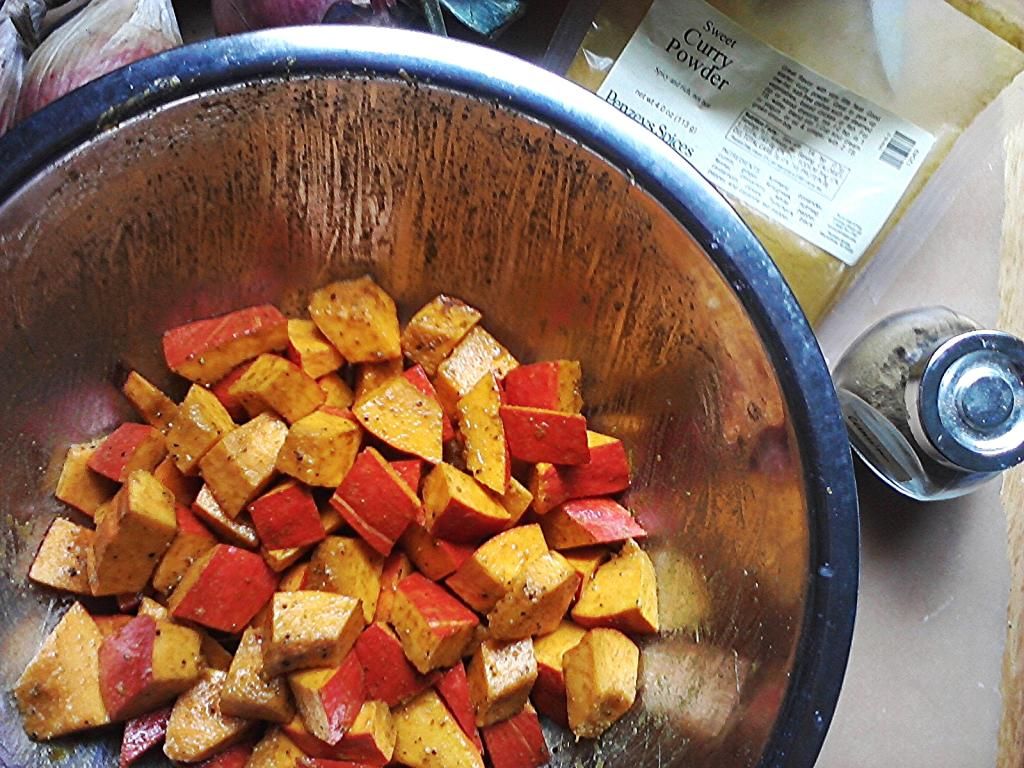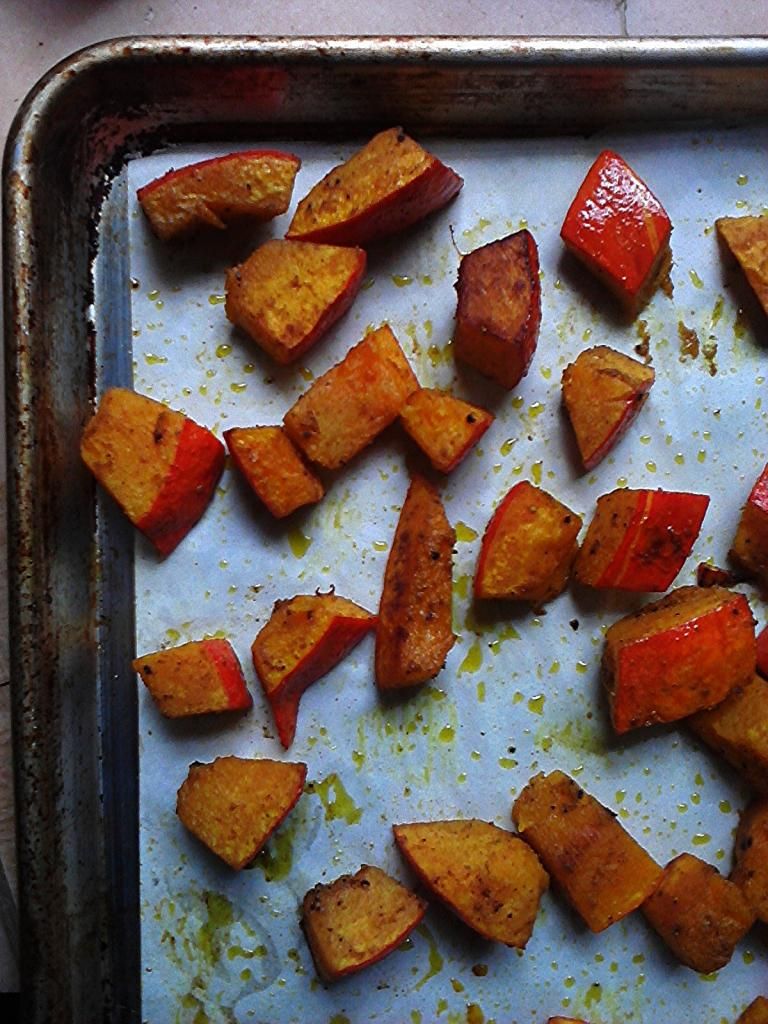 I caramelized most of the onions & roasted up the kuri squash. The great thing about the kuri squash is that you can eat the skin. Here's how this all went down:
Kuri Curry Coconut Soup
1 medium Kuri squash cut into 1" cubes
3 spring onions-caramelized
1 teaspoon of Penzey's Sweet Curry Powder
1 teaspoon cumin
olive oil
salt & pepper
2 large cloves of garlic
4 cups water
1 heaped tablespoon Better than Bouillion Chicken broth base
1 can coconut milk
Cook down the onions first. In general it takes about an hour to get a good caramelization if you go with the low and slow method. These farm fresh onions took even longer because they were so juicy...not like the drier supermarket/produce market onions I'm used to that have been sitting around for god-knows-how-long. It took me a while to figure that out. I cooked the first batch within 8 hours of picking. I was seriously thinking "What is wrong with these onions? Why are they taking so long?" City girl. It was really hard to resist turning up the heat to get them to go faster. I refrained. I'm not sure what difference it would have made to the soup, but I like to think a world of...
Pre-heat the oven to 425 degrees.
Toss the squash with big glug of olive oil, curry, cumin, salt and pepper. Spread onto parchment lined sheet pans, using as many as needed so as not to crowd the pan. Roast for 15 minutes, toss and roast for another 15 minutes.
I had caramelized the onions the night before, so I reheated them in the bottom of the pot with some chopped garlic. Heat up a pot of water and start a broth with the innards of the squash, cooking for about 30 minutes. Strain and add the chicken broth base and dissolve. Add more water if needed to reach 4 cups of broth. Bring to a boil. Add the roasted squash and...it wasn't until this moment that I realized I could have roasted a bunch of garlic with the squash...next time. Maybe. This soup turned out so great that I seriously had to resist over thinking it.
Anyhoo...let the soup simmer for 30 minutes. Puree (carefully-it's super hot). Return to the pot and stir in the coconut milk. Done and Delish!
This soup is killer with a grilled cheese sandwich to dunk into it.