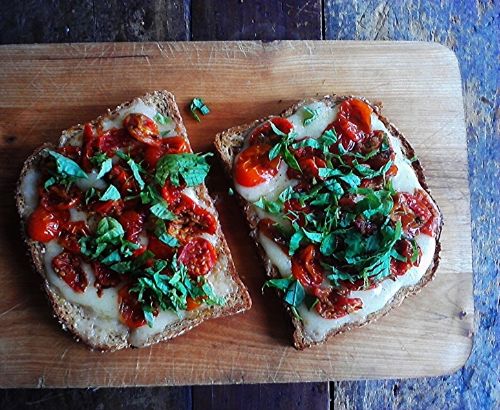 These are a few of my favorite things:


Cheese~my favorite food in the whole wide world. Truly. This particular spur of the moment concoction uses my everyday go-to cheese, Cabot Vintage Cheddar. I have the great good fortune to spend my 40 hour work week in the most amazing and inspiring foodie mecca's in San Francisco, Bi-Rite Market, where my exposure to cheese has opened up a whole new world. Gone are the days of supermarket block mild cheddar and jack. I've ventured into the world of stinky cheese and haven't looked back.


Slooowww Roasted Tomatoes~my little kitchen staple.


Basil-nothing..well, almost ...makes me happier than getting basil to grow on my window sill for more than a week. I've got one going now that's lasted over a month.






Slow Roasted Tomatoes
Pre-heat the oven to 275 degrees.
a pint or two of any small tomato you like-sliced in half lengthwise. In large bowl toss the tomatoes with a good glug of olive oil, sea salt, fresh ground pepper and if you want, some dried herbs such as rosemary, thyme or tarragon.
lay a sheet of parchment paper onto sheet pan and spread the tomatoes out evenly, cut side up. Spoon the liquid left in the bowl back into the cut halves that appear hollow. Use two pans if you need to so the tomatoes aren't crowded.
Bake for 45 minutes.




My approach to the grilled cheese:
Turn on the broiler.
In a small ramekin, start with 2 tablespoons of softened butter & stir in a dollop of Dijon mustard and 2 tablespoons of grated parmesan.
Slather on one side of two thick slices of country loaf bread.
Grate one cup of your favorite cheddar.
In another small ramekin, spoon up some of those slow roasted tomatoes you've got in the fridge, along with the olive oil it's been encased in. Microwave that for about 30 seconds, just to liquefy the oil. Strain this oil into a non-stick skillet and heat on medium. It's going to start spattering, that's the water from the tomatoes-wait until that stops, then place the slices of bread butter side down and let that get all toasty brown.
Transfer the toasty grilled bread, toasty side down on a small sheet pan or broiler pan. Pile on the grated cheese and place it under the broiler for a minute then spread the tomatoes over the melty cheese and broil for another minute. I sprinkled this with za'atar, but fresh ground pepper works just fine.
Remove and let it rest for about a minute and top with some slivered basil.