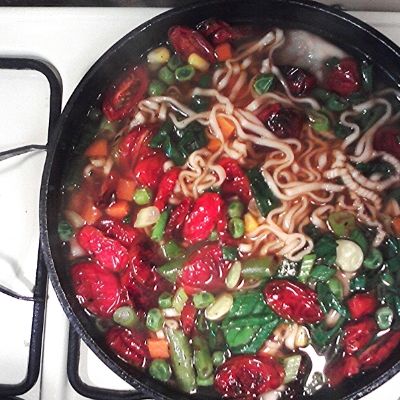 It started as soup.
This was a refrigerator rescue I concocted whilst house sitting awhile back. I was a stones throw away from my favorite Asian market, New May Wah on Clement Street & 8th Avenue. I love their amazing assortment of frozen dumplings and other potsticker type bites. Along with the array of sauces and the lure of DirectTV back at the house, I was a hermit for close to 3 days, resurrecting my old New Years Eve tradition of an enormous dumpling appetizer dinner, Cosmopolitans and a Sex & the City marathon. Good times.
The leftovers found their way into the pot.
I had also picked up a bag of ramen noodles, six curly compressed rounds packaged much like rice cakes.There was an unfortunate clamshell of grape tomatoes in my host refrigerator that begged to be rescued. Of course I slow roasted them. I also had a bag of mixed frozen vegetables at home. This was much more dense than my usual 3-1 broth-to-stuff ratio.
Method:
bring a big pot of
water
to a boil
-
this was 6 quart dutch oven with about 4 quarts of water, then reduce to a simmer.
Better Than Bouillon Vegetable Base

-
about 2 tablespoons- let it dissolve and taste.-just enough that the water takes on some flavor. Add some salt at this point if necessary. Seasoning at this point is more for flavoring the noodles that will cook in the broth.
a
garlic clove or two
finely chopped & smashed with coarse salt using the side of a knife
add
potstickers
if you have them-either your leftover cooked ones or frozen (let them cook through for about 7-8 minutes)
*I used both ramen and potstickers just because I had them-but either one alone is fine
a bunch of
scallions
, thinly sliced, white parts in the pot first-hold off on the greens until the end
any
raw vegetables
you're trying to use up, diced
ramen noodles
-I used one of the cake rounds
add the
roasted tomatoes
-THIS is what takes the soup up to a brilliant level!!
add
salt & pepper
to taste
finish with the scallion greens
you can also use up leftover cooked chicken-shred it or dice it.
leftover cooked vegetables work too-dice them up and add them at the end
This particular batch was big and dense. It lasted through the house-sit. By the last day, most of the broth had been reduced away leaving behind the perfect nest for a couple of poached eggs.
I felt pretty smug whilst OCD'ing on all that foodTV.