The sign of a successful new recipe, or more likely just my kitchen OCD, is when I'm already planning my next shopping list so I can immediately make it all over again-knowing full well that it will take me 2 or 3 days to finish the dish that's sitting right in front of me. I mean, you can never have too much of a good thing...can you? I tell myself "At least wait until day 3 and see how it holds up to the reheat".
I can attest to the fact that this just gets better. I heated a fat slice of it last night after getting home from a crazybusy day and working the closing shift at the market. I was famished by the time I pedaled my bike home and up that last hill that seemed to go on forever...grateful to have this ready to go and thankful to my wine buddy at the market for the remains of a bottle of Pinot Noir. I cracked open a new mystery I picked up from the library earlier in the afternoon and my evening was complete.
This savory layer cake comes from Jerusalem, one of my favorite cookery books.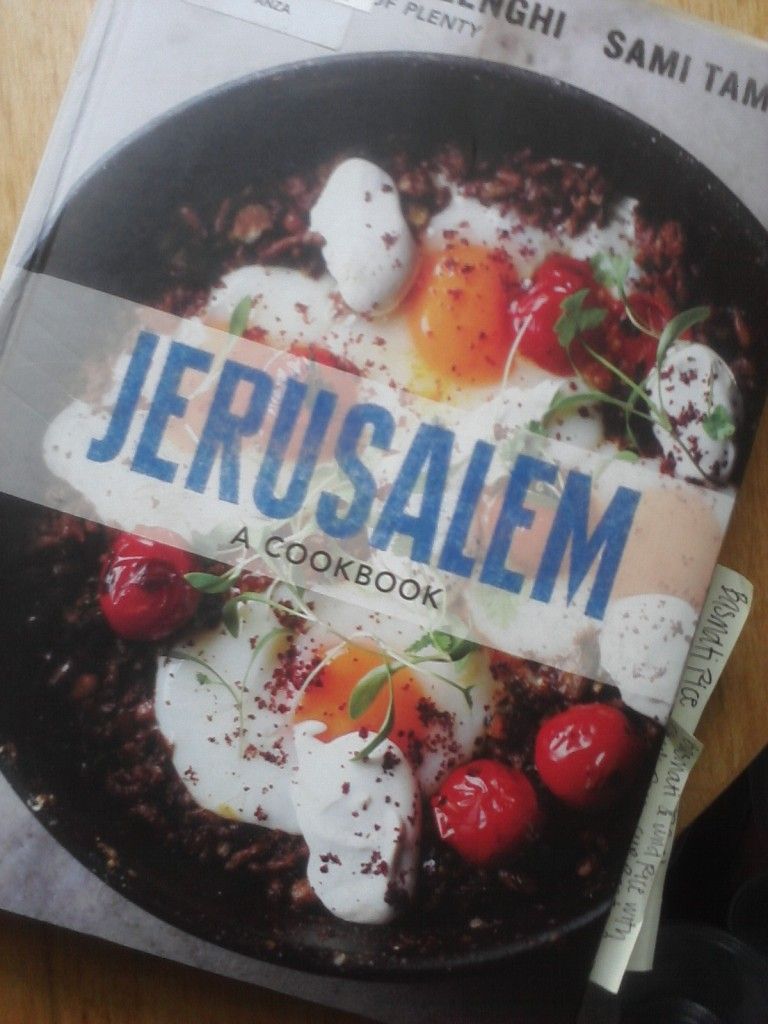 The chef's behind this collection of recipes are Yotam Ottolenghi and Sami Tamimi, owners of the wildly successful Ottolenghi restaurants in London. They call this an
Open Kibbeh
,
a non-traditional take on a classic Lebanese Kibbeh. There are versions of Kibbeh throughout the Middle Eastern culture, but basically a kibbeh is a meat filled croquet or deep-fried dumpling that includes bulgur wheat (cracked wheat), spicy ground meat with fresh herbs, pine nuts and tahini sauce for dipping.
In this version, each of the components are layered into a spring-form pan and baked, then left to cool to room temperature-at which point it's released from the pan, holding into wedges better and the flavors are at their peak.
This is really super simple to make. I'm fortunate to work in the place that I do with access to the best food in the city. I also have
this
great Armenian market out in my hood. It is a constant source of wonder when I peruse its aisles while I attempt to build my Ottolenghi pantry. My shopping list consisted of ground lamb (ground beef works too), bulgur wheat & pine nuts. I've never used bulgur wheat so I neglected to write down specifically "fine" bulgur wheat. I was slightly overwhelmed by the vast array of bulgur wheat on the shelf- 2 brands each with 4 grades from fine to coarse ground. I guessed and chose medium-fine. It worked fine though, the fully hydrated grain was slightly bigger than couscous and a tad grainier in texture.
At the butcher counter, the ground lamb they offered was called "lamb lulu". The raw lamb was seasoned with herbs and spices (I can't remember what they were but it sounded good) and spread squarely and evenly onto a long, narrow white platter, indented with an angular cross-hatched pattern and covered tightly with plastic wrap. It looked so beautiful.
Open Kibbeh
Y
otam Ottolenghi's

&

Sami Tamimi's Jerusalem: A Cookbook.
INGREDIENTS:
scant 1 cup (125g) fine bulgur wheat
scant 1 cup (200ml) water
6 tablespoons (90ml) olive oil
2 garlic cloves, crushed
2 medium onions, very finely chopped
1 medium jalepeno, very finely chopped
12 ounces (350g) ground lamb
1 teaspoon ground allspice
1 teaspoon ground cinnamon
1 teaspoon ground coriander
2 tablespoon roughly chopped coriander
1/2 cup (60g) pine nuts
3 tablespoons roughly chopped parsley
2 tablespoons self-rising flour (or 2 tablespoons all-purpose flour + 1/8 teaspoon baking powder + pinch of salt)
Salt and black pepper
3 1/2 tablespoons (50g) tahini paste
3 1/2 tablespoons (50ml) water
2 teaspoons lemon juice
1 teaspoon sumac
METHOD:
Heat the oven to 400 degrees. Brush an 8 inch springform pan with olive oil and line with parchment paper. Put the bulgur wheat into a bowl, add water to cover the bulgur, and set aside for 30 minutes.
Heat four tablespoons of oil in a large skillet. Sauté the garlic, onion and jalepeno on medium-high heat until soft, remove from the pan, return it to high heat and add the lamb. Cook for five minutes, stirring, until brown. Return the onion mix to the pan, along with the spices, coriander leaves, salt, pepper and most of the pine nuts and parsley (saving a bit for the finish). Cook for a couple of minutes, remove from the heat, taste and adjust the seasoning.
Check the bulgur to see if all the water has been absorbed (strain if not). Add the flour, a tablespoon of oil, a quarter-teaspoon of salt and a pinch of black pepper and, with your hands, work into a pliable mixture that just holds together. Press firmly into the base of the springform pan so that it is compact and level, I use the flat bottom of a pint glass. Spread the lamb mix evenly on top and press down. Bake for 20 minutes, or until the meat browns further and is very hot.
Whisk together the tahini, lemon juice, water and a pinch of salt for a very thick, yet pourable sauce. Remove the kibbeh from the oven, spread the sauce on top, sprinkle with pine nuts and parsley, and return to the oven. Bake for 10-15 minutes, until the tahini is just set and the pine nuts are golden. Remove and leave to cool down to room temperature.
Before serving, sprinkle with the sumac and a drizzle of olive oil. Remove the ring of the pan and carefully cut the kibbeh into slices.
This is great for leftovers too. I just microwave for one minute to take off the chill.