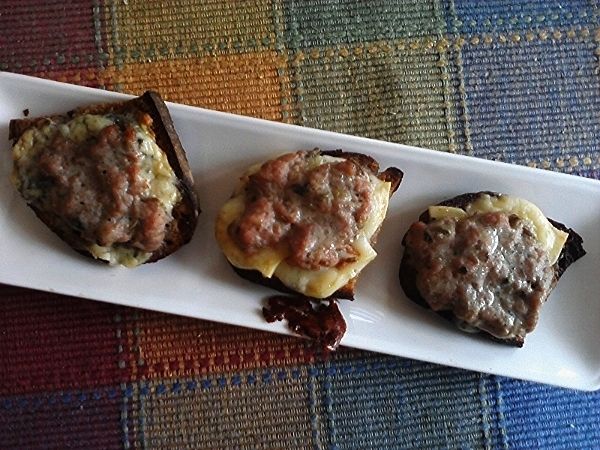 These toasty li'l bites are a super simple snack or crowd pleasing party appetizer. I've made a meal out of these with a bowl of soup or a salad. Toast + cheese + whatever is pretty much a daily thing in the little kitchen.
After two years working in
this amazing market
as a cashier and then supervisor I just this week moved into the cheese department. I can now add Cheesemonger to my resume.
After my first cheese shift a few weeks ago, I realized how ignorant I was of non-cow's milk cheeses. As I was offering samples of a beautiful little triple cream I became aware of how many people can't eat cow's milk cheeses so I begin by learning more about non-cow's milk cheeses starting with sheep.
A little curd nerdery:
Pecorino (or Pecora, actually) is the Italian word for sheep, so there are a whole lotta different pecorinos out there. Most are familiar with Pecorino Romano, a hard, grating cheese one can find in the super market and is used generally as an alternative to Parmigiano Reggiano.
Sheep milk is richer in fat than cow's milk. One cow puts out anywhere from 8-20 quarts of milk per day. One sheep puts out about 4 quarts a day, but sheep's milk has less water, more vitamins and minerals, more fat. A gallon of sheep's milk will make a slightly larger amount of cheese than a gallon of cow's milk. A herd of cows can give milk year round. Sheep don't do that. It takes a little more than a gallon of milk to produce one pound of cheese, then depending on how long that cheese ages, that pound will diminish in weight as the cheese loses moisture. Anyhoo, thus begins my cheese journey.
I brought home these three lovely little hunks of sheepy goodness. I wanted to start with semi-firm cheeses that would be good snackers and melters. These are all raw milk cheeses. In the U.S. raw milk cheeses must be aged for a minimum of 60 days, a time frame that would supposedly kill of any harmful bacteria yet leave the flavor enhancing bacteria in tact.
First up is the Tomme Brulee on the left. This is a firm, French raw milk cheese from the Basque country, distinguishable by the blackened mottled natural rind. A nice firm little cheese with smooth silky interior. As it melts on the tongue it's savoryness is mouthwatering. It's a perfect balance of sweet and salty with caramelly, nutty notes. It's a great snacker and would be awesome on a cheese plate, warming up the taste buds before a dinner of broiled lamb chops.
Next up is Baserri Barinaga (middle) a lovely raw milk cheese from Petaluma. I got a chance to visit Barinaga Ranch shortly after this sheep milk cheese tasting.
Marcia Barinaga models Baserri (the Basque word for farmhouse) after the Basque cheeses made by her family in Spain. Baserri is aged for 6 months, It's creamy, rich and nutty. It's a great table cheese and it melts beautifully. It was amazing toasted on slices of Marla Bakery Walnut Boule (pictured below).
Lastly is a classic Pecorino Toscano from Italy. It differs from Pecorino Romano which is aged longer resulting in a dryer and saltier cheese used primarily as a seasoning. Pecorino Toscano is a great table cheese as it has a surprisingly flavorful bite. There's a grassy tang to it that I wasn't expecting. Not only was this a great melter on my toasties, it was most excellent shaved onto a layered salad of arugula, radishes and fennel.
I used the housemade sweet Italian sausage we sell at the market. I also had a bit of Pt. Reyes Original Blue to add to the mix.
Super Simple Toasties or Sausage & Pecorino Crostini
1/2 inch slices of a baguette or small boule
8 ounces of cheese
1/2 lb. Italian sausage
Preheat the oven to 400 degrees. Line a sheet pan with parchment paper and lay out the sliced bread, top with an even layer of cheese. With your fingers squeeze sausage out of the casing and place a large dollop on top of the cheese, pressing and spreading it right to the edges of the bread. Bake for 10 minutes and serve promptly.