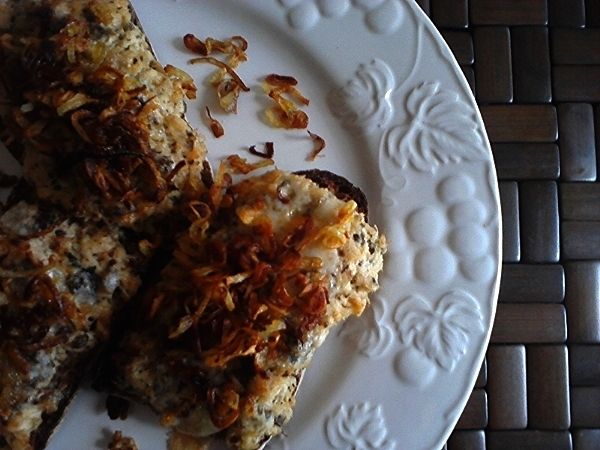 The little kitchen is currently enjoying the Love side of my love/hate relationship with tuna, since I stumbled upon the gob-smacking combo of tuna and blue cheese happily married on these Tuna Melt Toasts. The stars collided when tuna, blue cheese and crispy fried shallots just happened to be the few items on hand during a sparse pantry/fridge moment.
I've always loved a good tuna salad sandwich, but cans of tuna can conjure up a dark place, mostly reminding me of when I was poor, well poorer than I am now-back to those days when I scoured the weekly supermarket flyers ready to pounce on the 4 for $1.00 Bumble Bee sale at Albertson's. This probably coincided a time or two with my early Weight Watchers stints when I pretty much ate nothing but diet mayo, celery laden, tuna salad sandwiches on white diet bread, completely oblivious to the mercury/BPA/sustainability side of the coin that plague me now.
Anyhoo, if Weight Watcher's taught me one thing (and it taught me many)-It's about moderation.
Fast forward to this past January: I was having a conversation with one of my neighbors who happened to come into the market and we got to talking about tuna. He's a chef and he shared what he called his trick to a great tuna salad: squeeze out all of the water with your hands, then over a big bowl rub the tuna between your palms so it's broken down and fluffy, then mix in your favorite tuna salad mixers. All I could think about for the rest of the day was getting home and making tuna salad remembering that fresh batch of mayo I had in the fridge.
I started making my own mayo couple of years ago after watching an America's Test Kitchen DVD I'd picked up from the library.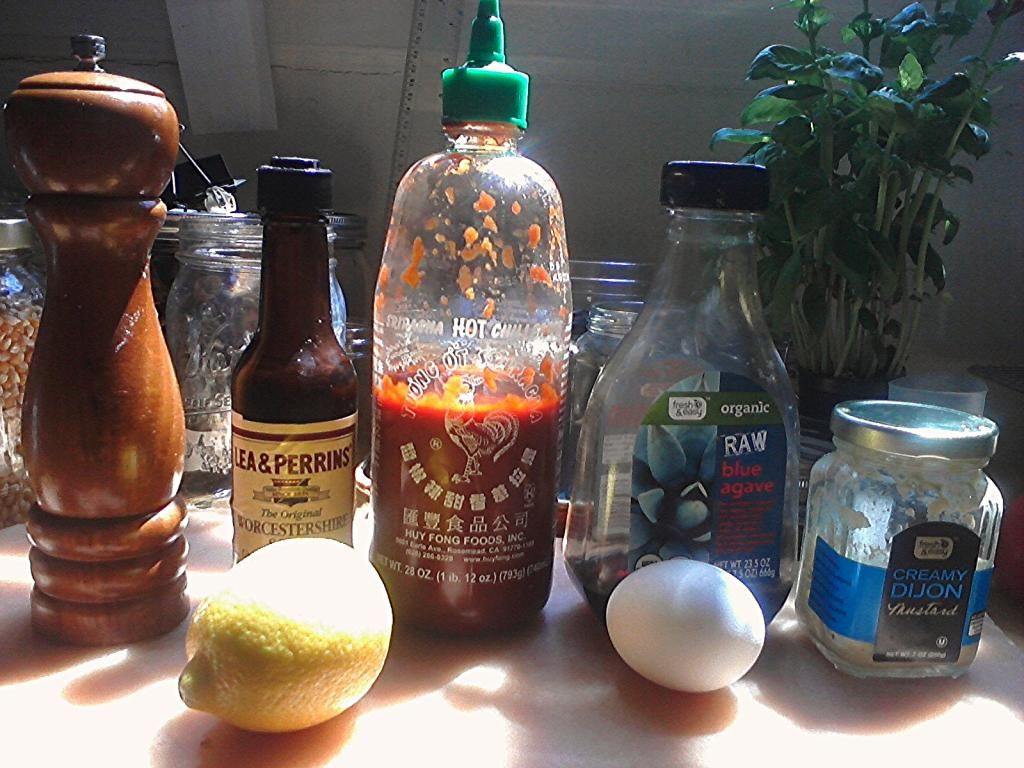 Mayonnaise
adapted from America's Test Kitchen TV
one egg
salt & pepper
2 teaspoons fresh lemon juice
dash of Worcestershire sauce
dash of Sriracha
2 teaspoons Dijon mustard
1 teaspoon agave nectar
Process the above ingredients until light yellow and with the processor running, slowly drizzle in:
1 1/4 cups neutral vegetable oil
Adjust salt, lemon juice & agave until you're happy.
This was the page I created for the cookbook I made for my niece's bridal shower last year.
I tend to go heavier on the Dijon for my everyday mayonnaise. I've made this tuna salad a few times since January and found that I like to amp up the lemon juice a bit in the mayo when I know I'll be making tuna and use the zest in there as well.
My tuna mixture is:
1 can of tuna, squeezed dry and palm shredded
a heaping tablespoon of home made mayo
the zest of one lemon
1 tablespoon capers roughly chopped
a handful of fresh herbs
salt & pepper to taste
Since first making these with Bayley Hazen Blue Cheese, I've used Stilton and Pt. Reyes Original Blue, all good but the
Bayley Hazen is my fave. It's a raw cow's milk farmstead cheese from Jasper Hill Farms in Vermont. It's got a lush, fudgy texture and just the right balance of salt and tang so it's not super assertive. I was amazed by how good this was but it was the
crispy fried shallots put this over the top.
I recently discovered crispy fried shallots when I attended a class at 18 Reasons, Bi-Rite Markets non-profit educational space. I used to buy one shallot at a time and only just to chop up for my vinaigrette. Now I purchase them by the pound at my local Chinese market.
Slice 4 or 5 big shallots, super thin on a mandolin. Heat up 2 inches of vegetable oil in a skillet and cook the shallots until golden and crispy, about 15 minutes. Drain on a paper towel lined sheet pan, sprinkle with salt, let cool complete and they will stay crispy in the refrigerator for about 2 days. I love them on salads, on sandwiches-especially grilled cheese, anything middle eastern and in grain bowls. I strain the oil and used it for cooking and in vinagrettes.