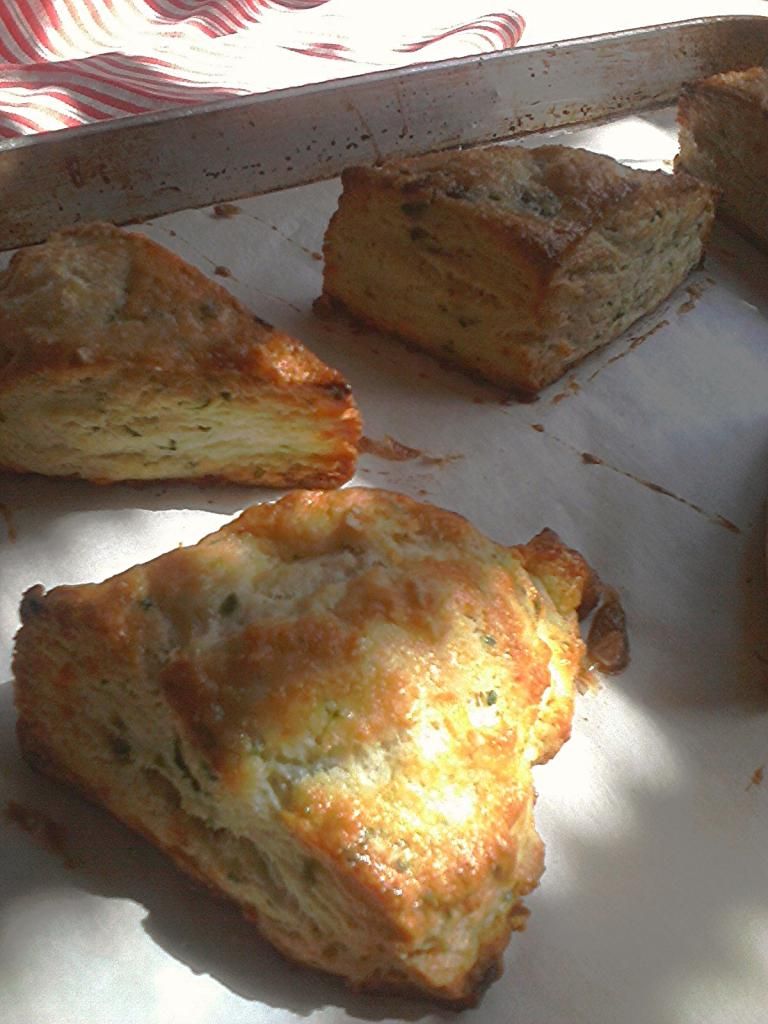 Finally, I got around to making the Cheddar & Jalepeno Scones again. I was in a savory scone zone last year, inspired by some great savory brioche that we were selling at the market. Last year I made them with Cabot Vintage Cheddar, a beautiful, moist, aged cheddar with a wonderful zippy flavor. It's a waxed cheese, which keeps all the moisture in as it ages and develops all kinds of tasty goodness. It's moisture makes it a great melter and it's my go-to everyday cheese.
This time I changed it up a little and used Cabot Clothbound Cheddar. It's also an aged cheddar but it's drier, a little saltier and savory-er. These are pretty great, even if I did wimp out on the jalepeno heat by scraping out the seeds and ribs. I used 2 large jalepenos, but Serrano peppers can be used as well. I will be making these again with a little more heat.
I bought a large net bag of jalepenos from my neighborhood Chinese market and I just happened to have the
Cooks Illustrated: The Science of Good Cooking
checked out of the library. I share their chosen method for storing chile peppers for more than a couple of days, should you find yourself with an abundance of chiles:
Cut the chile's in half lengthwise and submerge them in a jar with a brine of one tablespoon salt to one cup of water. Rinse the chile's off when ready to use. CI does not recommend freezing fresh chiles (unless you can flash freeze them in a cryo-vac/seal-a-meal kind of deal). You'll end up with mushy peppers when they thaw.


Cheddar Jalepeno Scones
1 tablespoon butter
2 large jalepeno peppers, seeded, ribs removed and finely minced
2 1/2 cups all-purpose flour
1 tablespoon baking powder
1 tablespoon sugar
1 tablespoon sea salt
1/4 teaspoon baking soda
1/4 teaspoon dry mustard
1/2 cup frozen unsalted butter cut into 1/2" cubes
1 ½ cups good aged cheddar cheese, grated
1/2 cup + 2 tablespoons whole buttermilk
2 tablespoons chopped cilantro
1 egg lightly beaten
Maldon sea salt to finish
In a small sauté pan, heat butter over medium-high heat. When the bubbling subsides add the jalepenos and sauté until soft, 5 minutes. Set aside and let cool completely.
In the bowl of a food processor, pulse the dry ingredients. Scatter the frozen butter over the dry ingredients and pulse until the butter pieces are the size of small peas. Add the cheese, buttermilk, jalepenos & cilantro. Pulse until everything is just combined. The dough will be pretty shaggy but hold together when pinched between your fingers.
Spread a large sheet of parchment paper over a work surface and turn the dough onto it. Using a bench scraper and working the dough as little as possible, shape, press and flatten the dough into either a 1 1/2 inch thick round, if you want larger scones or a 1 1/2 inch thick rectangle, if you will be making mini scones.
Slide the parchment onto a sheet pan and chill in the freezer for about 30 minutes.
Slice the round into 8 wedges, or the rectangle into 2 inch strips then 2 inch squares then slice each square diagonally across to form little wedges.
Return the wedges to the parchment/sheet pan with some space in between each piece. Cover the pan with a sheet of plastic wrap and return to the freezer for at least another 30 minutes or until you're ready to bake them. If you're planning to freeze any of the unbaked scones, continue to freeze for a minimum of 1 hour total. Remove the frozen scones from the sheet pan and transfer into a freezer bag removing as much air as possible. Place the bag inside a second freezer bag and remove air.
Pre-heat oven to 425 degrees. Place the scones on a parchment lined sheet pan. In a small bowl, beat the egg with a fork. Brush each scone with egg. Sprinkle with pinches of maldon sea salt and bake for 15 minutes until golden, rotating the sheet pan half way through. Let the sheet pan rest on a cooling rack for 5 minutes and transfer the scones directly onto the rack to continue cooling. Serve them while they're still a little warm. Uneaten scones can be left to cool completely and then stored in an airtight container at room temperature.